Mold Removal in West Houston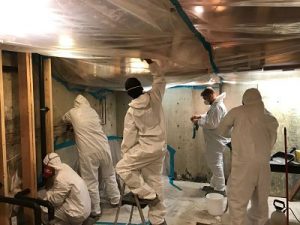 Mold not only emits unpleasant scents and discolored surfaces, but it can also pose major health risks to building inhabitants. Due to these health dangers, contacting a service that provides mold removal in West Houston as soon as you detect a mold outbreak is vital.
If your property has been affected by mold, call 911 Restoration in West Houston right away to get our mold remediation services started. Our mold removal experts are IICRC certified in mold remediation and they will restore your home or business to a safe and comfortable environment while also preventing future health and structural issues.
Ensure a Fresh Start with Mold Removal in West Houston
Mold damage restoration is critical since uncontrolled mold can cause a range of health problems, including breathing and allergic reactions, as well as severely reduce the value of a property.
If you have been searching for mold removal near me that can provide you with a fresh start, then you have come to the right place as we are experts in residential & commercial mold removal. 
Our mold cleanup services include drying moldy surfaces and disinfecting affected areas. As part of the mold mildew cleanup, the specialists dispose of mold-contaminated objects in sealed bags/sheets. Mold damage restoration requires proper clearance of contaminated things to avoid releasing mold particles into the air.
911 Restoration mold removal in West Houston also focuses on preventing future mold formation by providing recommendations for repairing water leaks, controlling humidity, and maintaining optimum interior air circulation.
Reliable Mold Removal near You
Your search for reliable mold removal near me ends here. While some restoration businesses claim to be able to completely remove mold from surfaces, we realize that effective mold remediation requires more. 
Mold remediation should be done in coordination with an outside Environmental Consultant or Certified Industrial Hygienist, according to the official mold remediation recommendations. We can assist you in finding an expert who can assess the type and quantity of mold present, prescribe a course of action, and verify that the affected areas are mold-free.
When you work with 911 Restoration for mold removal in West Houston, you're also working with our extensive network of trustworthy partners. You only need to make one phone call, and one of our technical experts will take care of the rest.
Identify Problems with Expert Mold Inspection
If your property has been damaged by water, it is likely that mold will grow there if it is not addressed quickly. If there is a lot of water damage, mold can start to form in as little as 24-48 hours.
Because mold does not usually appear as a result of visible damage and might be difficult to detect, many people are unaware that they have mold inside their property.
When mold growth isn't immediately apparent, 911 Restoration offers mold inspections. Our mold inspection services are especially useful when health complaints are prevalent but no visible spores are present.
Quality Mold Removal in West Houston Is a Call Away!
Mold develops quickly, but we work even faster. Call us whenever you have cause to believe your property requires mold removal near me. For high-quality and inexpensive mold cleanup services, call us today. 
We provide our services 24 hours a day, seven days a week to ensure your convenience. People who don't have time throughout the day for mold cleanup benefit from our 24-hour service. We will do our utmost to meet your requirements.