911 Restoration of West Houston
Water Damage Restoration in West Houston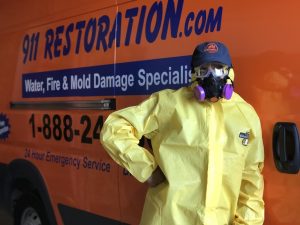 911 Restoration in West Houston is a one-stop solution for all of your property disaster cleanup and water damage restoration needs. We are your go-to water damage restoration company if you have water damage, flood damage, mold damage, sewage damage, and sanitization problems in West Houston.
911 Restoration is a team of IICRC-certified and licensed professionals near you who arrive in a company uniform and designated vehicle at your house or office. As a property owner, you can trust our highly trained technicians to look after your property as if it were their own.
We restore homes to their pre-damage state with minimal loss of property, and we restore businesses to full operation in the shortest period possible. 911 restoration in West Houston is available 24/7, has a response time of less than an hour and offers free visual inspection for property owners only. Not many can match up to this.
At 911 Restoration of West Houston, we offer a Fresh Start with our comprehensive selection of property damage restoration services, including but not limited to:
Whether you're a West Houston homeowner or business owner, 911 Restoration of West Houston is your Fresh Start! We'll communicate with you throughout the entire process, help answer questions related to insurance, and restore your property to its pre-damaged condition. One of our IICRC-certified teams is dispatched within 45 minutes of your call! Contact us today, and one of our friendly representatives will assist you in finding the nearest West Houston location.
Water Damage Restoration in West Houston
If your property has been overwhelmed with water, 911 restoration services in West Houston near you will respond swiftly. Our water damage restoration experts work to minimize further damage and start the water removal and restoration process.
Water damage to your property can occur as a result of a storm, flood, or plumbing problem. Immediate action is necessary to minimize the damage. Highly trained technicians from 911 Restoration near you specialize in complete home restoration after water damage. 
Our technicians will test and evaluate any structural damage to your property caused by the flooding/water leakage and then perform water extraction, drying, & dehumidifying to restore it to its pre-water damage state, ensuring complete water damage restoration in West Houston. 
Mold Removal in West Houston
Mold damage restoration is critical since uncontrolled mold can cause a range of health problems. This can include asthma and allergic reactions, as well as severely reduce the value of a property. Our water and mold damage restoration experts act fast!
911 Restoration mold remediation experts are IICRC-certified in mold remediation and specialists in locating and removing mold sources, as well as assisting in the prevention of future mold issues.
Sanitization Services and Disinfection Solutions
Viruses have their own minds, regardless of how much we socially distance ourselves, clean surfaces, or wash our hands. 911 Restoration recommends calling our experts near you for professional sanitization and disinfection services to fully protect your West Houston property.
Fire and Smoke Damage Restoration
A fire is one of the most dangerous events that can occur in your home. It creates an emergency situation since the residual chemicals and acidic byproducts can inflict irreversible damage. After the fire is out, taking prompt action is crucial. We work hard to clean up the damage and limit your losses to get your home back to normal as soon as possible. Our fire damage repair experts are available 24/7 to attend to any fire emergencies.
On the other hand, cleaning smoke damage after a fire calls for the use of specialist equipment and methods. For proper smoke damage removal, our specialists have the necessary knowledge and equipment.
Disaster Restoration
When your property is damaged, you need a service that can guide you through the entire process. In West Houston, 911 Restoration ensures that your home is restored fast and to our specific standards.
Our disaster restoration specialists are trained and certified in all types of disaster restoration services. Additionally, 911 Restoration in West Houston has invested in cutting-edge technology, personnel, and equipment in order to restore your property to its original condition or better.
Commercial Restoration
A variety of events can have a bearing on your facilities. Whatever the problem is with your academic, corporate, business, office, or retail property, you'll need a commercial restoration service provider who can get the work done quickly and correctly. Thousands of facilities, ranging from huge corporate offices to the neighborhood family eatery, have been restored by 911 Restoration specialists. And we're ready to get your facilities back up and running so you can get back to doing what you do best.
Sewage Backup Cleanup
The water may include pathogens, bacteria, and other microorganisms that can cause serious disease. For this reason, sewer backups should be treated as an emergency. 911 Restoration sewage backup cleanup services in West Houston have the training and resources to safely and effectively clean sewage and other toxins.
No matter what type of property damage you are faced with, the 911 Restoration of West Houston will fix it. For a Fresh Start, contact us at (303) 622-3871 today.