Sewage Backup and Cleanup in West Houston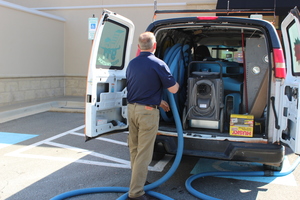 Since the water may cause contamination that leads to severe illnesses, sewer backups should be treated as an emergency. 911 Restoration has the training and resources for sewage backup cleaning in West Houston to safely and effectively clean sewage and other toxins.
If you have a sewage backup at your home or office, ask for our sewage removal services right away. It is not a job you should attempt on your own. You should contact 911 Restoration's IICRC Certified experts for sewage backup cleanup in West Houston; they have the necessary skills and equipment to resolve the issue, begin sewage removal, and protect your property from additional damage.
A Professional Sewage Backup Cleanup Service Near You
If you have been searching for a professional sewage backup cleanup near me, then your search ends here. The most prevalent source of sewage water damage to a property is sewage backups. Sewage water can spill from the city and household pipes into your facility's plumbing system when sewer lines are obstructed.
Our highly skilled personnel take care of these crucial sewage cleanup jobs promptly and safely, restoring your surroundings to normal. We are a highly experienced, local restoration service available 24 hours a day, 7 days a week, allowing you to continue with your regular schedule.
Unrivaled Expertise in Sewage Backup Cleanup in West Houston
Both business and residential clients can benefit from 911 Restoration's sewage backup cleanup services near me. Our team has received IICRC training and certification and they can ensure thorough sewage backup cleanup services so you can get back to your life quickly.
Our team responds promptly, and we're available round the clock a day, seven days a week. We'll be there to assist you in restoring your property and reduce the threat of illness and bacterial contamination of your property and belongings if a sewage disaster happens. In other words, you can trust us to do a great job!
Immediate Attention with Emergency Services
Contaminated water from sewage backup should be treated as an emergency and resolved immediately. 911 Restoration is ready to respond to a sewage backup with emergency services to restore your house or business to normal.
When a sewage backup occurs, it creates a dangerous atmosphere to be in, whether at home or in the workplace. Here, action must be taken quickly to clean up the affected area appropriately.
911 Restoration's IICRC-certified experts employ only the best tools in the restoration industry. We'll make sure the area is disinfected and deodorized so your house or business is safe and dry again in as little time as possible.
Call Our Professionals for Prompt Sewage Backup Cleanup in West Houston
Do you require sewage cleanup services due to a clogged toilet, choked sewer system, or malfunctioning septic tank? You can get your house or business back to normal by calling our sewage backup cleanup professionals at XXX today!